Our Team
When it comes to our gym staff, we hire only the best because we want to be able to give our members what they need and more from their local gym. Our trainers and staff members are passionate about helping our members to achieve their fitness goals, motivating them every step of the way so that they can achieve whatever it is they have come into our gym to do. Meet our staff below!
Victoria Ofria
Owner
Bio coming soon!
---
Andrew Lawton
CEO/President 
ACSM CPT
Andrew is a 12 year Army Veteran with 2 tours to Iraq and Afghanistan both as a Military Police Officer and a Forward Observer with the Infantry, to include 2 years with the US Army Honor Guard. He also has over 16+ years of fitness experience that ranges from the lowest level job to the highest, his ability to motivate and produce has allowed him to help others reach their dreams and better themselves. He is a beloved father of 3 children, 2 dogs, 4 cats and an amazing wife who also has experience in the health/medical industry. On his off time, he likes to spend time with his family going hiking, playing football and on other occasions stay in and play a variety of video games.
Andrew's motto "All of our lives have a beginning and an end. No one can change that. Take this time to leave a lasting impression."
---
John Latour
Club Manager
John is a 6 year Army veteran with 1 tour to Sinai Egypt, as an Infantryman. He has 3 years of experience in the fitness industry both as a HIIT instructor and currently as a sales representative. He spent over 8 years both as a competitive track and field athlete, and volunteering as a coach at speed camps. He values honesty and integrity and hopes to bring his beliefs into the fitness industry. In his spare time he enjoys hiking and playing video games recreationally.
---
Michael Miller
Club Manager
Michael Miller lives his life committed to his family and health and fitness. His professional career as a Facilities Engineer in the Biotech Industry was cut short in 2012 when he was dealt a major setback in the shape of a spinal cord injury which rendered the left side of his body incapacitated. Rather than concede to this condition Michael started working harder than ever, tackling physical therapy and exercise with his customary "no excuses, no surrender" approach and today is in better shape than ever and has returned to fitness competition and physical fitness as a way of life. Michael is beyond excited to bring his resilience and enthusiasm to the Impact Fitness family and to help others reach their own fitness goals.
Michael's motto "No matter how many times life knocks you to your knees, get up, fight back, believe in yourself and NEVER give up!"
---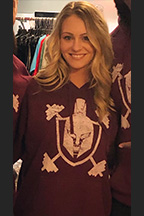 Jenny Wallace
Playmor Department Manager
A.B.A from QCC; CPR Certified
Jenny is a Quinsigamond Community College graduate with an associate degree in Business Administration. She is currently pursuing her bachelor's degree in Business Administration at Worcester State University and will receive her diploma in May of 2019. Jenny is a very family-oriented person that comes from a military background, born in Germany and raised in Arkansas and has an amazing 3-year-old son, Liam who has showed her the ultimate meaning of love. She has been working with children for four years and enjoys it with a passion and believes every child has something to offer.
Jenny's motto "Love everyone like a bulb lit up when you first saw them, for you never know what light they can bring into your life."
---
Avari Farias
Account Representative
Avari is a passionate advocate in guiding one to achieve their utmost potential, in all ways, mind-body-spirit. After discovering parts of herself through the practice of yoga, as well as various fitness exercises the past 5 years, she has gone back to school for Alternative Medicine in obtaining her Ayurvedic Health Instructors' certification (yoga's sister-science) through The Chopra Center. On her off days, she enjoys spontaneous travel to new places, spending time in nature and making memories with friends, family and her 5 pups.
Avari's motto "All that we are is a result of what we have thought. The mind is everything. What we think, ultimately, we become."
---
Stacy Allen
Account Representative
Stacy is 29 years old with her associates degree in medical health general studies. She has always had a passion for the health field and just wants to help others reach their goals. She is currently working towards getting a personal training certification. She lives her best life with her beautiful daughter, Zoey, her Black Lab, and her awesome significant other, Nathan, who she cares deeply for. When Stacy has time off she loves being active with her family. She has a devotion to walking, hiking, going to the beach and traveling in her spare time. She is hard working, supportive, and a great team player. Her passion for health is a perfect fit for our team at Impact Fitness!
Stacy's motto "Challenges are what makes life interesting and overcoming them is what makes life meaningful."
---
Aly Dupuis
Playmor Specialist
Bio coming soon!
---
Brianna Bull
Playmor Specialist
Briannah has 10 years in child care and is currently working on accomplishing her goal of becoming a Worcester firefighter. Briannah has done martial arts since she was 4 years old and continues bringing the values she's learned into everyday life. If she's not working, at the gym, or volunteering, you can find her with her family and two rescue pups off on an adventure.
---
Erin Wallace
Playmor Specialist
Bio coming soon!
---
Heidi Brazeau
Playmor Specialist
Bio coming soon!
---
Lynn Powell
Playmor Specialist
Lynn was born and raised right here in Auburn. She earned her Bachelor's degree in Psychology from Siena College, and her Master's in Special Education from Simmon's College. After 7 years of working in the Special Education field, she has taken a step back to focus on her family and 3 year old daughter. She has a love of softball and all things crafty!
---
Colin Robinson
Shake Master
Bio coming soon!
---
Brett Wilder
Personal Trainer
NSCA CSCS, NSCA TSAC-F, ISSA CFT, ISSA SFN, ISSA SET, KMG Civilian Krav Maga Instructor, BLS / CPR Instructor
Brett found his appreciation for fitness in high school where he trained as an amateur boxer and focused on military preparations. While serving six years as Military Police in the U.S. Navy, Brett began to pursue his passion in the fitness industry by earning certifications through the ISSA and CrossFit. This has lead to his extensive background in fitness and martial arts, ranging from boxing and self-defense to working as a biomechanics research/engineering intern at the Cybex Research Institute. Brett has a B.S. in Exercise and Sports Science with a concentration in Clinical Exercise Physiology and a minor in Mathematics. In his spare time, Brett likes to ride his motorcycle, read, go hiking, and hang out with his dog.
Brett's motto: "Success is all about persistence and doing the right thing for the long term."
---
Matthew Phaneuf
Personal Trainer
Action CPT and Adavnced Nutrition
I am an Air Force veteran of 7 years where I spent most years as a security forces officer and finished my last years as an instructor for the Delayed Entry Program. I love the fitness world and everything about it. I've been studying fitness and training with friends since I was in high school. I have my biggest supporter always by my side who is studying medical in school so we are always studying and learning all we can together. We are always looking for new adventures and challenges to take on including hiking and climbing anything we can. In my free time I enjoy playing and watching sports with friends and family or swimming and spending time with my dog.
Matthew's motto: "No matter how many steps something is going to take in life  it's the first step that matters the most."
---
Tanya Pierre
Personal Trainer
ISSA CPT, Medical Assistant Certification, CPR/AED
As a mother of two, I understand how hard it is to make time to work out, but it's so important. It's also important to get back to exercising with someone who understands exactly what mothers need to keep up with their children, and more importantly stay healthy for them. Fitness has always been a part of my life. I stopped working in the medical field after 12 years in 2017, so I can further my education and become a personal trainer. It was when I did my first show in 2015 a year after having my son ,and the amount of women that reached out to me for advice is when I realized I have a huge passion for this. I love helping others achieve their fitness goals! I am excited to say I am in a field that I enjoy working in.
Tanya's motto: "Each new day is an opportunity to improve yourself. TAKE IT and make the most out of it."
---
Garrison Pollard
Personal Trainer
ISSA CPT, Medical Assistant Certification, CPR/AED
I've been working for the government for 15 years now three of those years are active duty I joined the military it 2001 I have two beautiful kids a son and a daughter I lived in Germany for over 10 years came back to the States in 2013 I was introduced to fitness in 2004 and after I started seeing results I decided to take it to the next level, I have been in Fitness over 14 years I did my first bodybuilding show in 2008 winning first place at light heavyweight. I'm a certified Issa trainer and soon finishing Bachelors in business management and a concentration in supply chain management I became a certified trainer in 2009 and that's when I wanted to start my own business at helping others change their lives by reaching their goals.
Garrison's motto: "I believe in inspiring and empowering others for greatness blessed."